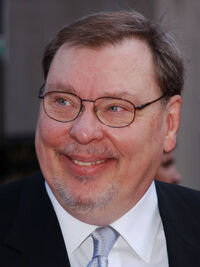 Lawrence "Larry" Drake (born February 21, 1950 – March 17, 2016) was the voice of Pops in Johnny Bravo, who voiced him for 34 episodes.
Drake was mostly best known in the television legal drama series L.A. Law as Benny Stulwicz. He appeared in films such as Darkman, Dr. Giggles and Bean.
Drake died on March 17, 2016 at the age of 66 of unknown causes.