Welcome To the Johnny Bravo Wiki!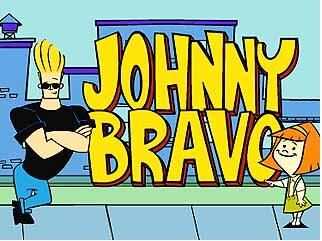 This Wiki is a community-edited encyclopedia for the Cartoon Network series Johnny Bravo. With big muscles, an infinitely larger ego, and not much inside his head, Jonathan "Johnny B." Bravo has a severe inability to attract women. The series centers around Johnny's attempts to get girls, please his Mama, go on various misadventures, and meet many odd characters along the way.
Around the Wiki
Featured Article
Jonathan "Johnny B." Bravo is the muscular main protagonist of the series. His middle name was rumored to be Boston. He has incredibly narcissistic and dim-witted traits that lead to a severely incorrigible inability to attract women, becoming a running gag throughout the series. He claims to dislike his "best friend", Carl Chryniszzswics. read more...
Did You Know...

* Johnny Bravo thinks he's smooth with the ladies?
Help Johnny Bravo Wiki

To write a new article, enter the title in the article creator.