Hanna-Barbera Productions, Inc.
(pronounced
/ˌhænə bɑrˈbɛrə/
) was an American
animation
studio that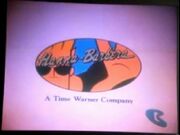 dominated North American television animation during the second half of the 20th century. The company was originally formed in 1957 by former
Metro Goldwyn Mayer
animation directors
William Hanna
and
Joseph Barbera
in partnership with
Columbia Pictures
'
Screen Gems
television division, as
H-B Enterprises, Inc.
[1]
Established after MGM shut down its animation studio and ended production of its animated
short films
, H-B Enterprises, Inc. was renamed
Hanna-Barbera Productions, Inc.
in 1959.
Over the next three decades, the studio produced many successful animated television shows, including The Flintstones, Jonny Quest, Scooby-Doo, Where Are You!, The Smurfs, The Yogi Bear Show, The Jetsons, The Huckleberry Hound Show, Top Cat, Wacky Races, The Quick Draw McGraw Show, Space Ghost and The Magilla Gorilla Show, among others. The studio also produced several theatrical feature films and theatrical cartoon shorts along with a number of television specials and televised movies, both animated and live-action. Hanna-Barbera's television productions have earned the company eight Emmys[2] and also been awarded a star on the Hollywood Walk of Fame. In the mid-1980s, the company's fortunes declined somewhat after the profitability of Saturday morning cartoons was eclipsed by weekday afternoon syndication. In 1991, the company was purchased by Turner Broadcasting System, who began using much of the H-B back catalog to program the Cartoon Network the following year.[3][4] Both Hanna and Barbera went into semi-retirement after Turner purchased the company, continuing to serve as ceremonial figureheads for and sporadic artistic contributors to the studio. In 1994, the company was renamed Hanna-Barbera Cartoons, and in 1996, Turner merged with Time Warner.
By the time of the merger, Turner had turned Hanna-Barbera towards primarily producing new material for Cartoon Network, including successful Cartoon Cartoons shows such as Dexter's Laboratory, Johnny Bravo, Cow and Chicken, I Am Weasel, and The Powerpuff Girls. With William Hanna's death in 2001, Hanna-Barbera was absorbed into Warner Bros. Animation, and Cartoon Network Studios continued the projects for Cartoon Network output. Joseph Barbera remained with Warners until his death in 2006. H-B is currently an in-name-only unit of WBA and its name and studio is today used only to market properties and productions associated with Hanna-Barbera's "classic" works such as The Flintstones, Scooby-Doo and Yogi Bear.